Andres Iniesta is said to be leaving Barcelona at the end of the season after 16yrs of splendid performance.
Andres Iniesta's

immeasurable greatness has been showcased in the unique, unprecedented  way he commanded a game and simultaneously injected it with beauty. He did so for

16 masterful

, trophy-filled seasons at one club. And on Friday, he announced that No. 16 would be his last. This seems to be one of barcelona's secret in the world of soccer.  Andres confirmed this at a

teary-eyed news conference

 and promised never ever will he play against the only professional European club he has  ever known.
 

Andres

will win his

ninth

and final La Liga title – his

32nd

and final club trophy – this weekend or next, then soak up the adulation and tributes that will follow him off into the Spanish sunset. He'll still be playing, first at the 2018 World Cup, then reportedly in China. But this feels like his going to  end it. And in so many ways, it will be a proper final chapter. The farewell tour began last weekend in Madrid, with a vintage, virtuoso performance in the Copa Del Rey final; with the entire Estadio Wanda Metropolitano, Barcelona fans and Sevilla fans alike, rising to applaud him; with tears; with pleas from his many admirers to stay, to continue to grace them with his artistry and brilliance.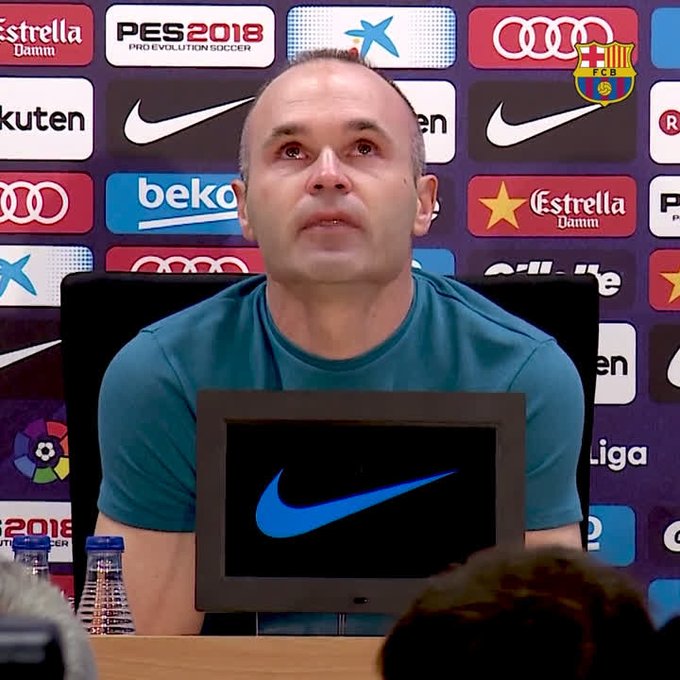 Andres, looking teary-eyed
The occasion  brought Barcelona coaches, players and executives together. An eloquent monologue from Iniesta brought them to their feet, tears to their eyes, and their hands together.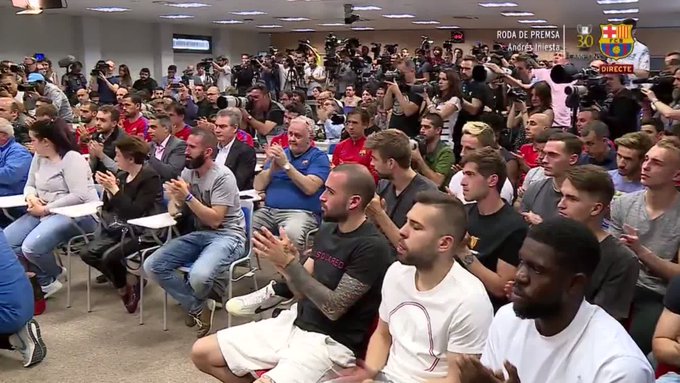 Barcelona coaches
,
players
 and
executives
According to him, "This is the best club in the world,"  "I wanted to be honest with myself. I've been here since I was 12 years old. If I couldn't contribute everything I was capable, then it was time to say goodbye. I don't want to make anybody uncomfortable.

Andres

thanked  the the club and

La Masia

, who made him  whom he is.  thanked all teammates, and his family, especially my wife and my three children, my treasures. Finally, I want to thank the fans, who have been with me through thick and thin. He also said he is at peace because he wanted to triumph at this club and he got it. Nothing makes me happier than that. I've given the best of myself in every sense. As a person representing the club I tried my best. It's beautiful."

Iniesta

was somehow overshadowed by

Cristiano Ronaldo

and

Lionel Messi.

They are the reason why he never won Ballon d'Ors and seemed like in the eyes of some, he was never appreciated to the extent he should have been. But these where never let out.   He said though he did not deserve to win a Ballon d'Or but was still himself.  He was

fulfilled

. For that, he has been celebrated, and will be celebrated.
"Respect is more important than a Ballon d'Or," Iniesta said "Everyone likes individual awards, but it doesn't change who I am."  What a cheerful reflection.